How Novatex Serigraphics Inc. Helped Dig A Client Out Of A Hole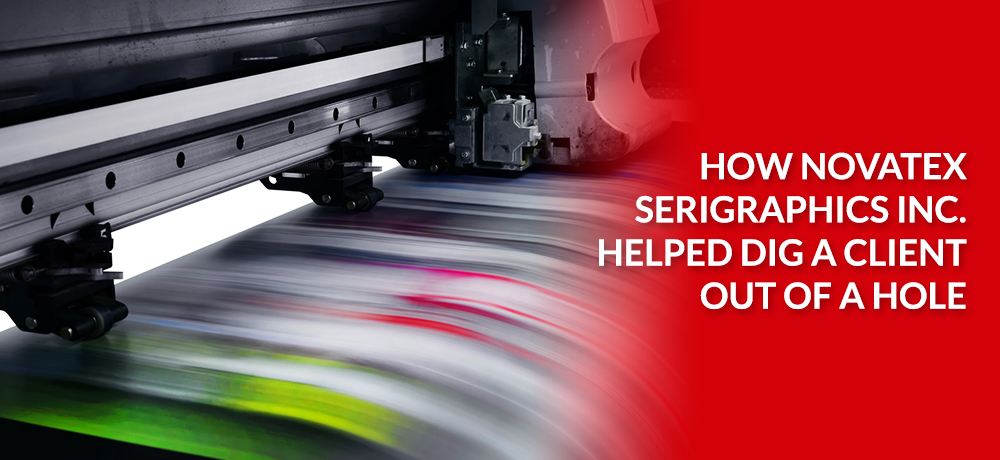 Businesses are often interdependent on each other when it comes to producing a finished product. For example, companies may require a small piece of their product to be outsourced, or they may need to source their packaging from a print and packaging company.
When it comes to sourcing the materials a business needs to complete their product, bigger companies have larger order sizes, while smaller businesses can occasionally be neglected as their orders may not be as profitable. The size of orders dictates supply, and often suppliers pull out of deals unexpectedly leaving smaller companies in the lurch. At times like these, businesses frantically begin seeking out alternatives as every minute spent not producing drives their profitability into the ground.
At Novatex Serigraphics, we value all customers, big and small. We strive to help all clients whenever they come to us with a problem. Keep reading to learn about how we helped a client whose production line came to a halt as a supplier stop supplying a key component of their finished product.
The Challenge: A supplier stopped manufacturing a niche part that was integral to our client's finished product.
An agricultural equipment company that we did label work for used copper EMI shields on the radios in the cabs to prevent interference with the electrical components in a particular piece of equipment they produced. They purchased these shields from a company in the US.
These shields consisted of copper laminated with polyester with a very intricate die cut. The company in the US started doing them, but then told our customer that this would no longer be possible because they were swamped with similar work for a large corporation. This left our client in a difficult position since they couldn't sell this equipment without this shield.
After thinking over the situation, our client called us and asked us to help them out. This was a whole new type of project for us as we only printed decals and, at that time, t-shirts. We didn't stock copper and had no idea where to find it. We didn't have a die cutter either!
We were tasked with creating a specialized product for this high profile client with absolutely no experience in creating it.
The Solution: Collaboration and persistence.
While at first, we were hesitant about taking on such a task, our client was insistent. As we didn't have any die, our client brought the die in from the previous company so that we didn't have to order it.
In the meantime, we managed to find suitable copper which, at that time, was a massive purchase for us. Next, we had to find a die cutter. Fortunately, one of our suppliers knew of a small version die cutter for sale that was suited to this kind of work. It was manual, but at least it was heavy enough to cut through the copper and the polyester laminate.
With all the requirements and tools in hand, we were set to begin! It took us three weeks from the first phone call to production which, considering the issues related to ordering such a specialized product from the US, is pretty good. The client was thrilled, as were we. This product line has since faded into obscurity, but we used this knowledge to supply similar products for other companies and it is a small yet lucrative niche in our business today. The small die cutter we bought has been retired, and we purchased a new-to-us die cutter that is larger which is used to this day in cutting our styrene signs (for security firms), decals and, of course, a wider array of insulators on various materials.
While we believe that three weeks was a reasonable time frame to complete the job, time was a major issue for this project. Our customer's products cost several tens of thousands of dollars, so downtime meant thousands of dollars of lost sales.
Though we have close to three decades of experience, this was a new experience for us, and we thoroughly enjoyed the steep learning curve we were on. Copper is not an easy product to work with, and it wrinkles very easily during lamination. However, we learned from our mistakes, and can now die-cut copper EMI shields with relative ease.